NASD Safety Plan
Opening statement
We are very excited to welcome you back for our 45th season. We have had the studio professionally disinfected and can't wait to get back dancing. The safety of our students and staff is our top priority as we share our joy of dance. Below is an outline of our procedures for safety.
Our Fall schedule will be drop off and pick up only (with the exception of limited visitors for our preschool, pre-k and kindergarten classes). Parents of these students are welcomed to walk their dancer into the building, while wearing a mask, and get them settled.
Please arrive only 5 minutes prior to your class. Our lobby is closed. Please also try to not arrive after your class has already started.
When you arrive, you will immediately go to the sanitation station, which is right inside the entrance, and use the hand sanitizer. Mask are required while in the building. We can provide one for you if needed. Hand sanitizer will be available throughout the building.
You will put your personal items in a basket and bring it with you into the studio. Baskets will be disinfected between uses.
No food is allowed, but you can bring a personal water bottle.
Classroom guidelines
Everyone must wear your mask at all times. The studios have been taped off with 6' squares. You will dance in only your square. We will adhere to social distancing at all times, no contact at all.
You must wear tap, ballet or jazz shoes at all times. No pirouettes, bare feet or socks.
No across-the-floor work will be done until further notice.
Virtual platform (Zoom) will be available for all classes.
Classes may end 5 minutes early to allow for disinfecting depending on the daily schedule.
After class you will drop off your used basket in the designated area and exit the building.
Classroom cleaning procedures
We will disinfect frequently touched surfaces after each class.
We will disinfect the barres and dance floors after each class.
Teachers will wash hands and disinfect their work stations after each class.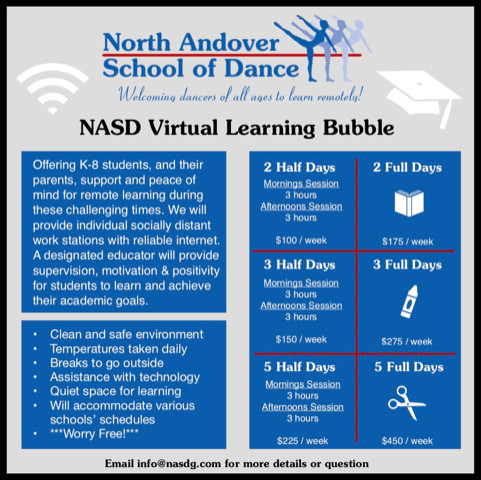 Notifications
In the event that any staff member or student are exposed to COVID-19, or someone with COVID-19, they will be asked to stay home for 14 days (longer with a positive COVID-19 test). Anyone they have come in contact with will be notified. The studio will get a professional disinfecting service.
If a staff member or student is exposed to COVID-19 we will work with our local and state health departments to ensure appropriate local protocols and guidelines are followed, such as updated/additional guidance for cleaning and disinfection and instructions and availability of COVID-19 testing.
In the event of a positive case, Debbie will contact the Board of Health to notify them, as well as notify all Staff & parents that may have been exposed.
Expectations of our Staff
When a staff members arrives at the studio their temperature will be taken. If their temperature is at or above 100.4 they will be sent home.
All staff will wash their hands and apply hand sanitizer when they arrive.
Each staff member will utilize a provided basket for their belongings.
Teachers will welcome dancers into the room, instruct them to put down their baskets and go to their designated square(s).
Teachers will clean and disinfect the dance room and frequently touched surfaces at the end of each class.